Santos and Java Coffee
Details
https://www.whittard.com/de/coffee/santos-and-java-coffee-350496.html
789
Additional Information
Blending beans from either side of the globe, Brazil and Indonesia, our Santos & Java is a seductively dark, velveteen coffee with a powerful kick.
More about this Coffee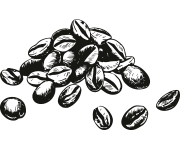 TASTES LIKE
Burnt Caramel & Cream
Try it as...
Drink
Mocha
Equipment
The caramel sweetness of this coffee works perfectly in a mocha: try brewing it in a cafetière, then adding a little cocoa and milk.
BRAZIL & INDONESIA
Our Santos beans come from Minas Gerais, a region near the Brazilian port of Santos; we've blended them with beans grown on the Ijen Plateau in Java, Indonesia.
The Perfect Balance
The Santos coffee beans are grown on the rolling plains of Southern Brazil, yielding dark flavours of baking chocolate and stewed fruit, while beans sourced from the humid volcanic slopes of the Ijen Plateau on the island of Java add a lighter, creamier sweetness with just the right acidity. With its heady aroma and high-roasted boldness, we like to think this coffee has something of the mystery of Indonesia, and a touch of the party spirit of Brazil…