Café Français Coffee
Details
https://www.whittard.com/de/all/cafe-francais-coffee-350504.html
1015
Additional Information
The French are famous for their high-roasted, hard-hitting blends, brimming with bombastic dark chocolate – we've balanced those heavy flavours with a blend of our very own, exclusive to Whittard.


More about this Coffee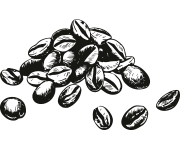 TASTES LIKE
Cocoa & Walnut
Try it as...
Drink
Cappuccino
Equipment
We love a strong shot of this rich, dark coffee brewed in an AeroPress and served as a latte.
COLOMBIA & BRAZIL
Our Café Français blends beans from across South America: Huila department in south-western Colombia and Minas Gerais state in south-eastern Brazil.
How to Brew the Perfect
1 espresso shot (18g ground coffee + 35ml freshly boiled water)
150ml steamed milk
Cocoa powder (to serve)
Pour 35ml freshly brewed coffee into your cup, so it's a little less than halfway.

Top up with the steaming hot milk and a 4–6cm layer of froth.

Dust with cocoa powder as the professionals do.

35ml freshly boiled water
Ice
Milk (optional)
Brew a shot of espresso using 18g ground coffee and 35ml freshly boiled water. Allow it to cool.

Load a glass with ice.

Pour over your cooled coffee.

Top up with cold milk if desired.

Find Out Other Ways to Brew here
As Brewed by You
Coffee is a personal thing, and we love to see how you put your touches on your morning cuppas. Take a snap, follow us on Instagram and tag @whittardofchelsea1886 for a chance to be featured in our gallery.