When Walter Whittard first set up store selling tea, coffee and hot chocolate, he had no idea what the next century or so would bring. It's a story of breaking with tradition, war and disaster, survival, success, innovation and creativity…
---
Walter Whittard was never the sort to compromise. At the age of 17 he quit the family leather business out of frustration with his father's way of running things, and took a job with a tea trader in London's bustling city centre. Eight years later – aged just 25 – he opened his own shop in bustling Fleet Street, with a simple philosophy: to "buy the best".
In those early days the walls would have been lined with huge tea caddies, and filled with the scent of roasting coffee. Walter insisted on blending his tea and roasting his coffee on site; he also had a keen eye for a marketing opportunity, and targeted the nearby law courts by describing his tea as "The Barrister's Refresher".
---
It wasn't long before Walter started to make a name for himself. In 1892, a "Lady L" from Cheltenham wrote to the store that "We like the tea very much, and have recommended it to our friends." Another customer was similarly impressed: "I received the tea safely, and am much pleased with its quality, it is very good indeed, and I shall recommend it to my friends. The tea however recommends itself."
---
In 1935 Walter died, and the business fell to his sons Dick and Hugh. It was a tough time to take over any business: the effects of the Great Depression were still being felt across Europe, and a new war was looming on the horizon. Undeterred, the Whittard brothers took the helm, their father's philosophy to "buy the best" firmly entrenched in their minds.
---
In 1939 war was declared, and a year later a bomb struck the Whittard warehouses during the blitz. "I shall not be sorry when this is all over," Hugh wrote to his brother, sketching out a detailed diagram of where the bombs had fallen. Sadly it ended in the worst possible way, as the "Second Great Fire of London" in late December 1940 blew the warehouses to smithereens.
Dick later wrote that "it was as though the ground had opened up and swallowed the building". The war had unleashed hell on London, and for a while it looked as though Whittard was finished for good – but it would take more than that to kill the brothers' resolve.
---
After Whittard lost its warehouse to the blitz, Dick and Hugh quickly set about finding a new warehouse nearby. It wasn't long before they decided to up sticks and move their entire business – the shop, headquarters, warehouse and coffee roastery – to Chelsea, settling on a rather grand-looking building at 111 Fulham Road.
The new premises presented new challenges, as well as opportunities. The brothers couldn't get their hands on a new tea blending machine until 1944, so for over three years all blending was done on the floor of the warehouse using special wooden shovels. But they had inherited their father's eye for quality – and rationing presented a new opportunity, with plenty of customers eager to nominate Whittard as their dedicated tea suppliers.
---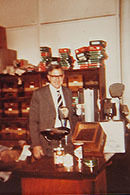 In 1967, Walter's son Hugh Whittard was killed along with 48 others when a train came off its rails at Hither Green. It was a serious blow to his brother Dick, who ran the business alone for another five years before handing over the reins – though he was still called in for consultation. Dick died on the 20th July 1985 – just under a century after his father first set up shop.
---
After decades of successfully trading from its iconic, post-war Chelsea home, W.H. Whittard & Co. became Whittard of Chelsea, associating itself with the well-established heart of its business. A nod to the future while staying true to its heritage, it marked a new era for Whittard. Ever since, Chelsea has played an integral part of our brand identity for almost 50 years.
---
As the new millennium brought promise of new beginnings, we were celebrating a new beginning of our own: our dazzling new flagship store in Covent Garden. Filled with loose leaf tea, aromatic coffee and creative hot chocolate, it was an instant hit with Londoners and day-trippers – visit today and you'll find a treasure trove of wonders to discover, including a tea bar serving all-day afternoon tea.
---
It's been a long, varied and exciting history for Whittard of Chelsea. We've been through World Wars, incredible discoveries, tragedies and successes. But if there's one thing that's kept us going, it's the attitude of our founder.
Walter was a tradition-breaker with no time for compromise: he was never afraid to try something new, and he always stuck to his philosophy of "buying the best". Today, we push boundaries with our unique, innovative blends and scour the world for the best single origin varieties, from the very best tea to our limited edition coffees. We're proud to hang Walter's name above our door – and we think he'd be proud too.