Mountain Water Blend Decaffeinated Coffee
Details
https://www.whittard.com/it/coffee/mountain-water-blend-decaffeinated-coffee-356543.html
131
Additional Information
We've used Arabica beans, adding a small quantity of Robusta for extra body but without the caffeine of a usual cup of coffee.
More about this Coffee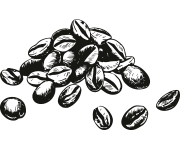 TASTES LIKE
Honey & Cream
Try it as...
Drink
Cappuccino
Equipment
Try our Mountain Water Blend brewed using a filter method, and served as a luxurious cappuccino.
MEXICO
We've used arabica beans from Mexico, adding a small quantity of Vietnamese robusta for extra body.
How to Brew the Perfect
1 espresso shot (18g ground coffee + 35ml freshly boiled water)
150ml steamed milk
Cocoa powder (to serve)
Pour 35ml freshly brewed coffee into your cup, so it's a little less than halfway.

Top up with the steaming hot milk and a 4–6cm layer of froth.

Dust with cocoa powder as the professionals do.

35ml freshly boiled water
Ice
Milk (optional)
Brew a shot of espresso using 18g ground coffee and 35ml freshly boiled water. Allow it to cool.

Load a glass with ice.

Pour over your cooled coffee.

Top up with cold milk if desired.

Find Out Other Ways to Brew here
Chemical-Free Decaf
Not all decaffeinated coffee can claim to be produced without chemicals. We thought we'd do things differently and bring you a superb Mexican blend, naturally decaffeinated using the Mountain Water Process – a technique specially developed to preserve the coffee's original flavour and aroma.
The Mountain Water Process involves immersing the coffee beans in water at varying temperature and pressure in order to extract 99.9% of the caffeine. No chemicals are used, and a filtering process allows the beans to maintain their characteristic flavour. Once quality-checked, dried and polished, the beans are ready to be roasted; we've applied a medium roast for a complex, perfectly balanced brew. After all, there's no reason decaf should be dull…