Monsoon Malabar Ground Coffee Valve Pack
Details
https://www.whittard.com/fr/pre-ground-coffee/monsoon-malabar-ground-coffee-valve-pack-337998.html
1177
Additional Information
Our Monsoon Malabar sealed in a valve pack for freshness. Exceptionally smooth with a sweet, spicy kick, this dark roast coffee is unique to the lush Malabar Coast of Karnataka and Kerala, where it has protected status.
More about this Coffee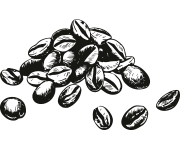 TASTES LIKE
Red Wine & Brazil Nut
Try it as...
Drink
Latte
Equipment
We love a strong shot of this rich, dark coffee brewed in an AeroPress and served as a latte.
INDIA
Our Monsoon Malabar comes from the Karnataka region, on the northern stretch of the Malabar Coast in south-western India.
How to Brew the Perfect Cup
1 espresso shot (18g ground coffee + 35ml freshly boiled water)
250ml steamed milk
Add 35ml freshly brewed coffee to a tall glass

Top up with steaming hot milk

Finish with a spoonful of foam.

1 espresso shot (18g ground coffee)
35ml freshly boiled water
Ice
Milk (optional)
Brew a shot of espresso using 18g ground coffee and 35ml freshly boiled water. Allow it to cool.

Load a glass with ice.

Pour over your cooled coffee.

Top up with cold milk if desired.

Monsoon in a Coffee Cup
Monsoon Malabar's unique process of exposure was discovered by chance back in the 16th century, as spice ships transported the beans back across the seas to Europe. Stored deep within the hold, the damp, humid conditions caused the beans to swell, neutralising any acidity and producing a deep, heavy sweetness – an immediate hit with Europeans.